Meeting Mélanie Laviolette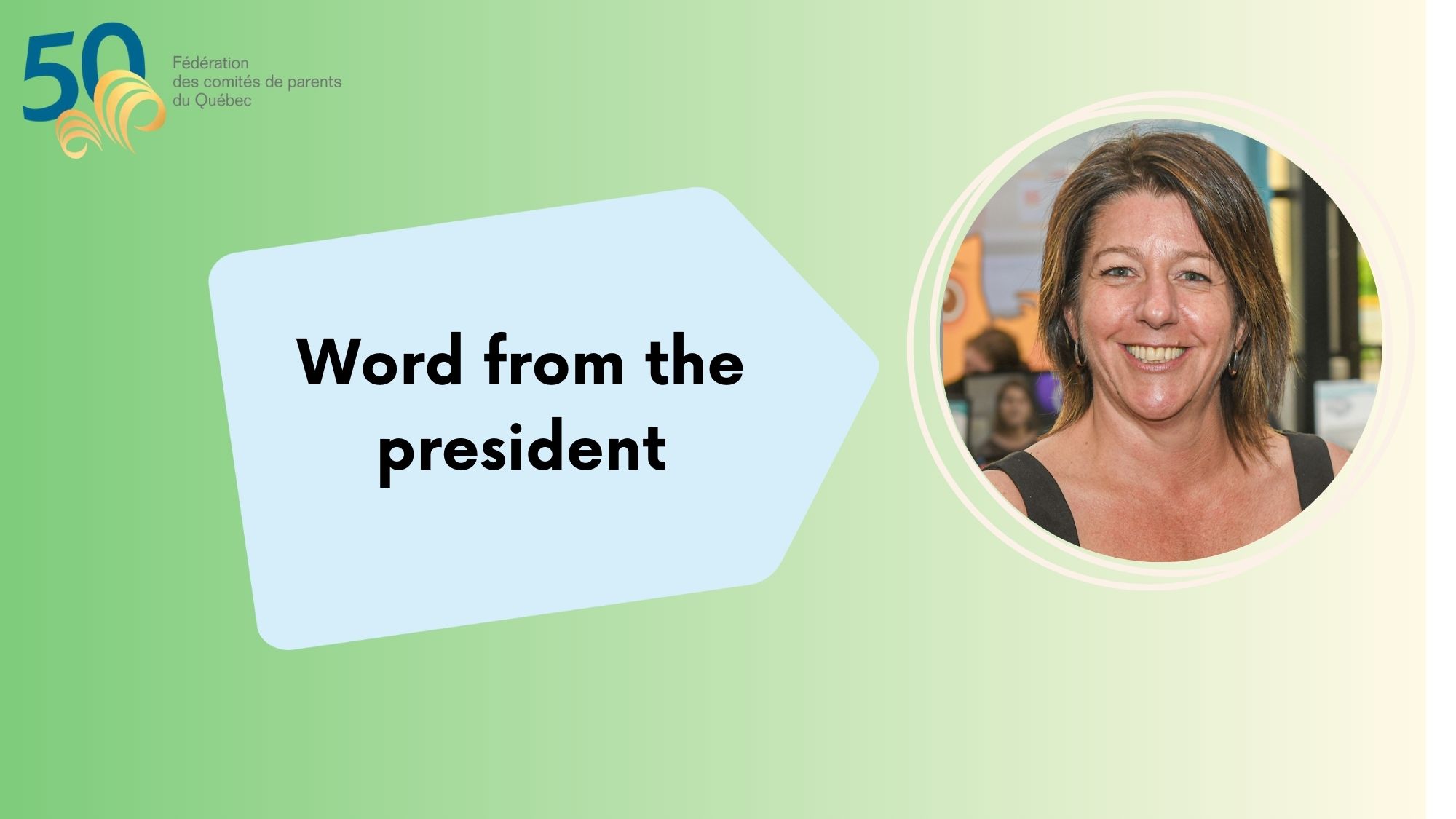 President of the FCPQ since August 1, 2023, Mélanie Laviolette talks about her family life, her commitment and her motivations in this short interview.
Who is Mélanie ?
I'm a single mom of two teenagers aged 12 and 15. One of my children has special needs related to autism. I've been working as a podiatric clinic coordinator for three years. I'm starting my 11th year as an involved parent: I've held every position on the parents' committee, including president, vice-president, treasurer and delegate to the Federation! I also volunteer at my village library. I love being busy and stimulated, and I have a real passion for education. In my opinion, an educated society is a rich, healthy, caring and open society.
What keeps you going on a daily basis?
I like taking care of people. I'm happy in my job as coordinator because I interact with people and contribute to their well-being. I like to understand people, to know the story behind the surface. I'm fascinated and interested by people in general. In my work and in my volunteering, the possibility of reaching out to people attracts me. My reward is when I manage to help someone and they ask my name, because I've been able to make a difference. That's what keeps me going.
What motivated you to get involved as a volunteer parent in the first place?
I started getting involved when my eldest started first grade. Like many parents of children with special needs, I wanted to ensure that his school environment offered adequate services. In my first year of involvement, I found myself vice-president of the governing board, representative on the parents' committee and delegate to the FCPQ! It's always a bit intense with me! I realized just what sitting on committees entails, and just how much a parent can do to improve and change things. I discovered the problems and snags in the system that sometimes make things go more or less smoothly. It made me want to deepen my knowledge of the school system. The motivation went beyond my child, it became for all children. I was lucky enough to be in a great environment, in a great school, in a great school board. I wanted to help make things right everywhere.
What prompted you to run for president of the FCPQ?
It's the Federation's mission. It's my desire to help promote the role of parents in education. Some may have forgotten just how essential our presence is to children's success. I want to help the parents of Quebec to understand their importance in education and in participatory instances.
I've never been someone who wanted the spotlight, it's not for me. I see myself as a messenger. The confidence of my colleagues on the executive committee was a major factor in my candidacy. I've given it a lot of thought. If Kévin had run for president again, I wouldn't have run. He was very supportive.
Do you have any goals for your next four years as president?
I'd like to mobilize parents to get involved to the extent that they can. I'd like to see increased participation in school annual assemblies, and for parents to feel a sense of belonging to their community. Parents need to be a strong voice in education. Give parents a taste for being invested, involved and concerned by their children's education.